Our lab and office are located in Northeast corner of 2nd Floor in KSC bldg. No. VII, Kobe-Sanda Campus (KSC) of Kwansei Gakuin University. Here we sketch out the access to KSC from Osaka or Kobe area.
By Train (From Osaka)
Take JR Fukuchiyama Line ( also nicknamed the JR Takarazuka )
Get off at JR Shin-Sanda Station.
From Osaka to Shin-Sanda takes about 42 minutes if you take JR-Tanbaji-Kaisoku (express, but no extra cost).
Change to Local bus at JR Shin-Sanda
Take KG Link (Shinki-Bus) or Shinki-Bus No. 45, 46, 48, 55 or 145.
Most of buses depart from bus-platform No.5 (KG Link, 46, 55, 145). Bus No. 45 and 48 depart from platform Nos. 4 and 2, respectively.
To Kobe-Sanda Campus (KSC), it takes about 15 min. Get off either Gakuen-3-Chome(学園3丁目), Kwansei-Gakuin-Mae(関西学院前) or Kwansei-Gakuin-Daigaku(関西学院大学). The fee for bus is 310 JPY.Time table of Shink-bus at Shin-Sanda Station Normally, buses have very good connection with the arrival of JR train. The 1st page for weekday and 2nd page for holidays, respectively.
By Highway Bus
For foreigners, this is the most easy to reach KSC from Kobe area. The fee is 800 JPY.
By Train (From Kobe or Shin-Kobe)
Take Hokushin-Kyuko at Shin-Kobe station and then change to
Kobe-Dentetsu at Tanigami Satation toward Sanda.
Get off at Minami-Woody-Town Station.
Take Shinki-Bus (No. 46 or 48).ref) Time table of Shinki Bus at Minami-Woody-Town Station
Kwan-Gaku & Gakuen 7 & Woody-Town directions
By Car
Highway
Take Chugoku highway to "Kobe-Sanda" exit, take a lane to "Woody Town". Turn left at Akashia-Dai-1-Chome to Yurinoki-Dai. Take route no. 720 toward Techno-Park at the intersection of Yurinoki-Dai-6-Chome. Then, turn left again at the next signal at Yurinoki-Dai. Near the next signal, you will find the KSC right-hand side.

Download the English roadmap near KSC [pdf file]
Location
Campus Map
The campus map of Kobe-Sanda Campus. Our lab is located at KSC No.VII Bldg. (No. 12 in the following map).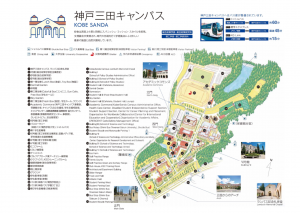 Kobe-Sanda Campus
Railway connection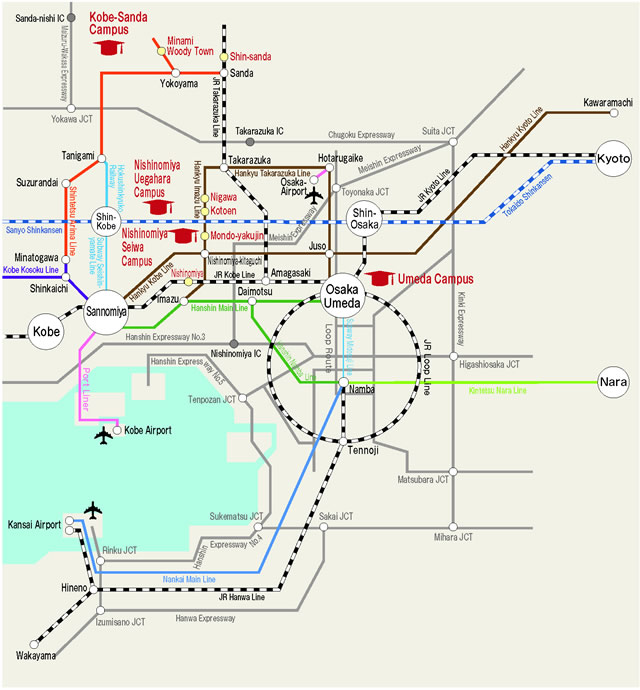 LINK
School of Science and Technology is located in Kobe Sanda Campus
See the link →http://global.kwansei.ac.jp/about/about_203316.html
2-1, Gakuen, Sanda, Hyogo, Japan, 669-1337
School of Science and Technology, Kwansei Gakuin University
Tel. +81-79-565-8349 Fax. +81-79-565-9077
School of Science and Technology Kwansei Gakuin University